Ogden Museum of Southern Art, dedicated to broadening the knowledge, understanding, interpretation and appreciation of the visual arts and culture of the American South, will hold its annual O What a Night! Gala honoring iconic local artist George Dunbar on October 15, 2022, with a Patron Party and auction preview on October 13 at the home of Walton and Jeffrey Goldring. Co-Chairs Penny Francis and Jason Waguespack invite you to join them at the O What a Night! Gala, which sells out every year and plays host to affluent and influential patrons from New Orleans and across the country. This evening is not only an experiential celebration of the very best in Southern art, music and food, but is also the Museum's top fundraising event. Your contribution to the O What a Night! Gala 2022 will provide critical funds for our award-winning educational programs and our dynamic exhibitions of Southern painting, photography, sculpture and much more.
Purchase tickets to the O What a NIght Gala link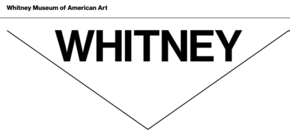 Callan Contemporary congratulates George Dunbar on the acquisition of his painting "Action Painting" c.1950-5 into the permanent collection of the
Whitney Museum of American Art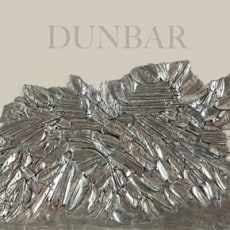 Book Publication: George Dunbar essay by Richard Speer
Callan Contemporary is pleased to announce the release of a 250-page publication on the life and work of George Dunbar.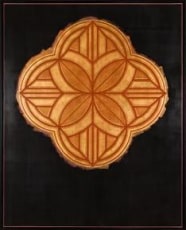 New Orleans Museum of Art Exhibition George Dunbar: A Retrospective
November 3rd, 2016 - February 19th, 2017
This exhibition surveys the career of George Dunbar (American, born 1927), who played a pivotal role in introducing abstract art to the South.
George Dunbar: A Retrospective surveys the career of George Dunbar (American, born 1927), who played a pivotal role in introducing abstract art to the South. A New Orleans native, Dunbar studied in Philadelphia and Paris before returning to Louisiana in the 1950s to create paintings, sculptures, assemblages, and prints that marry the stark geometry of modern art with the lush, organic materials that evoke the state's many swamps and bayous.
Dunbar's richly textured works explore abstract art's connection to landscape and place. George Dunbar: A Retrospective examines the evolution of Dunbar's art from the 1950s, when he participated in a joint exhibition in Philadelphia with American abstract painter Franz Kline, to his most recent body of work in clay relief. The exhibition examines how Dunbar's observations—as a bridge-builder, landscape architect, and urban planner—inform his unique approach to abstract art, and underscores Louisiana's role within a more expansive story of 20th-century American art.
George Dunbar: A Retrospective also considers the rise of abstract art in New Orleans, featuring Louisiana modern artists who Dunbar influenced and inspired as well as works by internationally acclaimed American artists like Franz Kline and Mark Rothko, with whom Dunbar worked and studied. The exhibition will be accompanied by a limited-edition publication created in collaboration with George Dunbar, containing an in-depth interview with the artist and an essay that contextualizes his work within the history of 20th-century American art. NOMA also will create and present a documentary highlighting Dunbar's body of work, creative influence, and artistic legacy.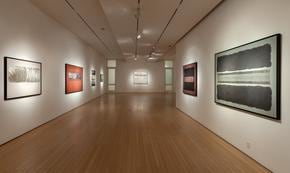 By John D'Addario
November 18, 2015
If any visual artist in New Orleans has earned the title of "living legend," it's George Dunbar.
In a career spanning over 60 years, Dunbar has seen his work become the subject of two solo shows at the New Orleans Museum of Art, and it's been added to the permanent collections of major institutions including NOMA, the Ogden Museum of Southern Art, and the British Museum. And in 2008, he received a prestigious Governor's Lifetime Achievement Award for his lifetime contributions to art and culture in his home state of Louisiana.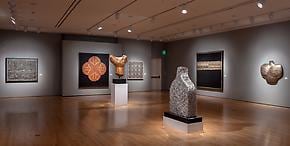 Earth and Element: The Art of George Dunbar at The Paul and Lulu Hilliard University Art Museum, University of Louisiana at Lafayette
Exhibition on view until August 30th, 2014
CLICK HERE TO VIEW VIRTUAL TOUR
Earth and Element—these two important features have had a direct impact on the life of George Dunbar and the creative realm in which he exists. Earth, which he has manipulated throughout his career as a real estate developer and his life as an artist, is meticulously moved, gouged, built up and pushed away to create works in which both the abstract and the precise exist. The natural earthly environment, including the marshes of his beloved North Shore, have had a dramatic impact on his approach as well, whether seen through his Marshgrass Series, or Katrina—these environs help to shape a portion of the psyche seen in Dunbar's work. Element, as seen in the metallic gold leaf that he has utilized in several series—including Coin du Lestin, Rouville, and Bonfouca—has also been at the forefront of his artistic life. Intricate and beautiful layers of metallic and gold leaf, meticulously applied to the clay, are oftentimes gouged and burnished to expose their raw and elemental forms. These dichotomies are examined in Earth and Element: The Art of George Dunbar.
Dunbar emerged in the late 1950s as one of the preeminent contemporary artists working in the Deep South. While traditionally trained as a painter, he initially focused in the realm of action painting as his context. His passion and desire to work as an artist allowed every aspect of his life to inform his work, moving both his life and his art through many turns and going down unseen paths. On meeting George for the first time, I was soon to discover why his career has pursued these many roads. Dunbar's intellectual curiosity and pursuit of brilliance has not subsided. It is clear that this quest for knowledge and the lifelong hunt for virtuosity has been the driving force throughout his career and is to be celebrated in this important exhibition for which the Paul and Lulu Hilliard University Art Museum is most proud to present.
Lance S. Harris
Interim Director

Paul and Lulu Hilliard University Art Museum University of Louisiana at Lafayette