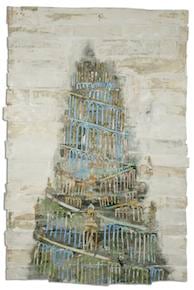 Press Release
"Imagined Shores"
September 25th through October 26th, 2014
Reception: October 4th, 6 – 9 pm in conjunction with CAC Art for Arts' Sake
The archetypal symbolism of the sea and the home are at the heart of Raine Bedsole's powerfully evocative sculptures and works on paper. In haunting interpretations of boat forms, oars, coral reefs, maps, and related imagery, she celebrates our dueling impulses to explore distant shores and to return to the sanctuary of home. Her boat sculptures, critically acclaimed and beloved by collectors around the world, are porous and architectonic in structure; they seem to glide through the air, buoyed on unseen currents. For the first time, Bedsole has cast larger-scale sculptures in bronze, imparting a monumental permanency equally suitable for indoor or outdoor display. These works are finished with rich patinas, while others are fashioned from welded steel, sheathed in silk, or appointed with blown-glass raindrops, strips of fabric, or the pages of antique books. This rich material and thematic layering imbues each piece with a long history, the components uniting to weave mysterious narratives in the viewer's imagination.

The enduring allure of the ocean is subject matter that comes naturally to Bedsole, who has always lived close to the water. She grew up in Coastal Alabama; has traveled widely in Greece, Italy, Cuba, and other nations with long maritime traditions; and creates artwork in her studio in the Bywater neighborhood of New Orleans. The recipient of a prestigious grant from the Joan Mitchell Foundation, she has created significant public artworks and has exhibited throughout Europe, the Middle East, Australia, and the Americas. The ethereal quality of her vessel sculptures will be highlighted in a stunning installation at Callan Contemporary: the boat forms suspended at different heights by monofilament and thin cables, appearing to float like an airborne fleet and casting a web of interlacing shadows. Walking through the installation, the viewer becomes a fellow voyager sailing through space and time.

On an intriguing parallel course to her sculpture, Bedsole's works on paper are also densely layered in surface and meaning. Integrating elements of painting, drawing, and collage, they draw upon themes from world mythology (as in the collage/drawing Penelope's Tears and the collage/charcoal Babel), among other sources. Across the exhibition, Bedsole's fascination with the metaphorical voyage of life shines through. She is inspired by T.S. Eliot's poem, "Little Gidding," one stanza of which elegantly sums up ideas central to her work: "We shall not cease from exploration/and the end of all our exploring/will be to arrive where we started/and know the place for the first time.