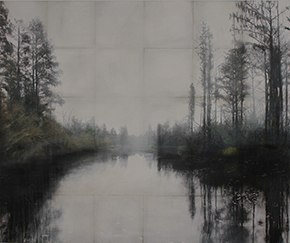 Press Release
June 1st - July 27th, 2013
Reception June 1st 6-9 PM
In his first exhibition at Callan Contemporary, John Folsom examines the landscape of the Southern swamp as a quiet space of meditative solitude. Culled from images gathered at Okefenokee Swamp in South Georgia, this new body of work represents the area as ethereal space brimming with folkloric myth and peaceful contemplation. Inspired by the position of swampy landscapes in classic monster movies, these snap shots of an otherworldly setting leave an indelible mark. Drawing deeply on the primitive flora and fauna of the setting, Folsom leaves the palette neutral and somber, enhancing the introspective effect. The reflective nature of the waterways cutting through the landscapes tugs at memories, causing personal narratives, Southern mythologies and family histories to become individually projected into the visual space. The effect of the dozen new large-scale works is transformative; the pieces loom, pulling the viewer along, through channels draped in Spanish moss as landscapes disappear or barely float on the surface. Punctuated splashes of green meeting the yellow undergrowth of the water breathe life into the setting as the eye moves ever forward. Trees, haloed and obliterated by the use of white pigments seem to hover on the edge of perception. One does not look at the pieces as much as enter them.
Folsom's practice demonstrates this narrative potential of landscape images through the intersection of painting and photography.

Folsom is a mixed media artist born and raised in Paducah, Kentucky. He earned a Bachelor of Fine Arts in Cinema and Photography from Southern Illinois University. Folsom's work has been exhibited extensively throughout North American and can be found in many institutional collections including the Gibbes Museum of Art in Charleston, South Carolina. His work was most recently acquired for the private collection of Jon Stewart.

"My new series, Creeper Lagoon, is an attempt to present the space of the swamp as a cultural construct," he says. "Devoid of indigenous life, the images presented here become a space of potential where the viewer's reference and experience fill in the gaps to create a personal narrative. My fascination with these spaces has grown with continued photographic exploration of the American coastal south."

In Folsom's work, the swamp is a microcosm, rich with primitive flora and fauna, but also abounding with stories of swamp monsters, swamp gas and white alligators. This exhibition seeks to present the territory as a beginning from which an enterprise of contemplation and projection can be launched. In this way, the swamp is dependent upon the viewer's experience and interpretation to find its place.

His multi-tiered process begins with travel and documentation. Full digital images are broken into grids; then each tile is developed individually onto digital pigment print. The image is reassembled and adhered to a wooden panel, evidence of the grid remaining in the completed piece. He then paints on the surface of the photographic paper using traditional oils and seals the work with a wax finishing varnish.