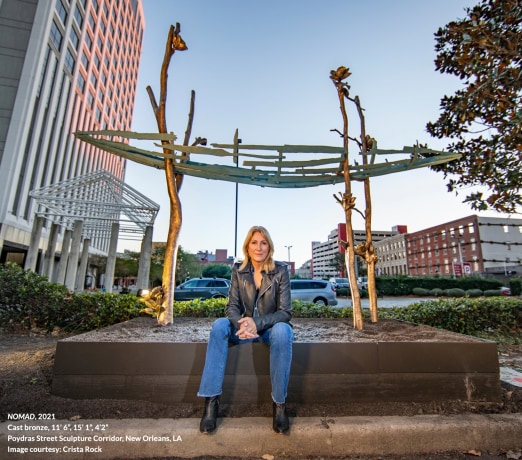 Raine Bedsole's "Nomad" is installed on Poydras Corridor Sculpture Exhibition commissioned by The Helis Foundation
"GROWING UP ON A FARM NEAR THE ALABAMA RIVER, NATURE WAS MY FIRST TEACHER. LIFE WAS INTERTWINED WITH THE MAGNOLIA TREE IN OUR BACKYARD; LONG FAMILY MEALS ENJOYED IN HER SHADE, WEDDINGS CELEBRATED, DEATHS GRIEVED. I FELT PROTECTED AND NURTURED UNDER HER ARCHING BRANCHES. THOUGH ANCIENT AND STRONG, STORMS CAME AND TOOK PARTS OF HER, BUT COME SPRING SHE ALWAYS BLOOMED AGAIN. LIKE TREES, HUMANS ARE BOTH FRAGILE AND RESILIENT. IN TIMES OF LOSS, WE SOMEHOW FIND A WAY TO NAVIGATE THE CHALLENGES BACK TOWARDS GROWTH AND NEW LIFE. AFTER THE WATERS OF HURRICANE KATRINA SUBSIDED, BOATS LANDED IN TREETOPS, GIVING LIFE TO THE IMAGINARY IMAGES IN MY ART OF BOATS FLYING THROUGH AIR AND ETHER LIKE MYTHOLOGICAL VESSELS. LIKE HURRICANES, COVID HAS FORCED PEOPLE TO REFLECT ON THE COURSE OF THEIR LIFE'S DIRECTION, AND MANY HAVE BECOME NOMADIC. MOORINGS HAVE BEEN CUT AND PEOPLE FIND THEMSELVES IN NEW AND UNEXPECTED PLACES." – RAINE BEDSOLE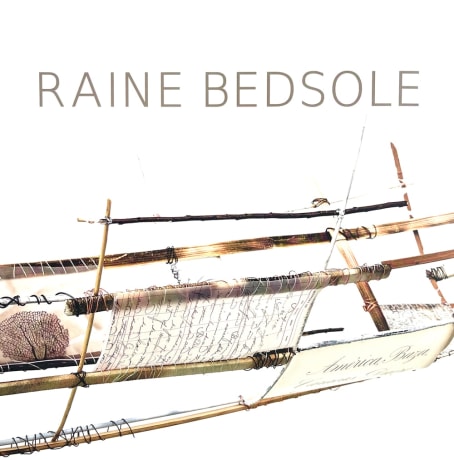 Material/Myth/Metaphor: The Artistic Vision of Raine Bedsole, published this autumn by Callan Contemporary is the first comprehensive survey of the artist's career. The 250-page book features an essay by Richard Speer and is richly illustrated with work from the 1980s to the present.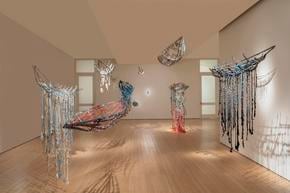 "Review: Raine Bedsole explores spirit Vessels in 'Passage' The Gambit
Oct 15, 2018 - 12:00 pm
BY D. ERIC BOOKHARDT
"Jesus was a sailor when he walked upon the water... only drowning men could see him." So opined Leonard Cohen in his epochal 1967 ballad "Suzanne."
Similarly, the historical Buddha often is depicted serenely floating on a lotus flower. If spirituality is so closely linked with water, New Orleans may be the most spiritual city in America.
If that sounds far-fetched, this "Passage" expo at Callan Contemporary gallery extends Raine Bedsole's long exploration of spirit vessels that, like New Orleans itself, can seem magically suspended in a sea of humidity.
So what are we to make of this armada of welded bronze, copper and steel pirogues that float in space much the way deceased Egyptian pharaohs were envisioned sailing across the night sky in buoyant Nile barques? These are hardly uncharted waters for Bedsole, for whom these skeletal vessels have been a consistent theme, but each iteration reveals new facets of her ongoing investigation via new tidal currents of connections.
Here, the spindly crosshatching of "Lachesis" looks like a Native American canoe and suggests both the veinous expanses of banana tree leaves and the gossamer wings of vintage airplanes. Likewise, the swampy streamers dripping from the skeletal "Maia" suggest bejeweled root systems that blur the boundaries between the earth and the sea and a perspective beyond the all-consuming currents of techno-minutiae that the 21st century imposes upon us.
Indeed, contemporary techno-minutiae is just the latest version of a very old story that once was summarized succinctly by a late lawyer friend of mine: "Life is a hustle."
But, as the Buddha, Jesus, Taoist sages and saints of all stripes might agree, just beyond the latest hustle is a chill space where the connectivity exceeds whatever is available on your smartphone. Those broader and more supportive currents are silently yet resonantly conveyed in Bedsole's "Philosophers I-IV" (pictured), as the Buddhas seem to float on lotus petals amid climbing vines in a realm where addictive algorithms melt into the oceanic currents of the cosmos.
Or as Bedsole says, "When I have dreams of flying, I am always in a boat."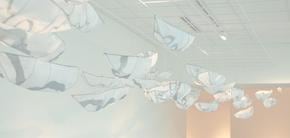 November 2015 through October 2016
MOBILE, Ala., Oct. 7, 2015 – New Orleans-based artist Raine Bedsole returns to her hometown November 13, with a new site-specific installation for the Mobile Museum of Art.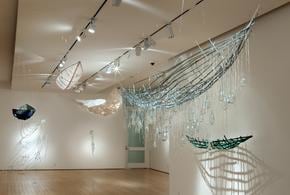 October 5th, 2014
"To disappear into deep water or to disappear toward a far horizon, to be part of the depth of infinity, such is the destiny of man that finds its image in the destiny of water." So said Gaston Bachelard, that most poetic of French philosophers. His words may be taken literally--as some Miami residents whose streets now flood at high tide found out--or figuratively, as his book title, Water and Dreams, implies. Longtime Nola resident and coastal Alabama native Raine Bedsole is no stranger to flooding, but her water-inspired sculptures suggest vessels that connect the seas of primordial memory with the tides of the imagination. Life began in ancient seas and our bodies are mostly water, but civilization was our response to the elements, and therein lies a paradox, a puzzle for engineers and poets.