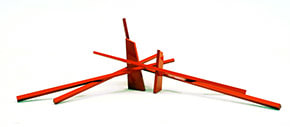 Press Release
"Recent Sculptures"
March 3rd - April 28th, 2009
Internationally acclaimed sculptor John Henry will present Recent Works at Gallery Bienvenu, in a satellite exhibition to Sculpture for New Orleans, a two-year program placing monumental sculptures throughout the city. Henry's invigorating geometric works range in scale from small tabletop pieces to some of the largest contemporary metal sculpture in the world. Recent exhibitions include Drawing in Space: The Peninsula Project, a seven-city exhibition throughout Florida; New Monuments at the Laumeier Sculpture Park in St. Louis, Missouri; Back on the Plaza on Chicago's Magnificent Mile; In the Shadow of the Alps at Art-St-Urban, Switzerland; OPEN 2007 in Venice, Italy; and the 2006 Vancouver Biennale in British Columbia.

In the lineage of Suprematism and Constructivism, Henry's sculptures show a mastery of rhythm and line, conveying visual excitement and conceptual depth. Bracingly colored and immaculately composed, they rise from firmly grounded planes into dramatic spikes and thrusts that speak to human aspiration and achievement. His works are included in the permanent collections of The British Museum (London), Smithsonian Institution, Library of Congress, Museum of Contemporary Art (Chicago), Dallas Museum of Art, Fort Worth Art Museum, and Miami Art Museum, to name only a few.

A distinguished lecturer, Henry has taught at the University of Iowa, University of Wisconsin, University of Chicago, and the School of the Art Institute of Chicago, from which he graduated in 1969. He is currently Distinguished Professor of Art at Chattanooga State College and is the recipient of grants and fellowships from The National Endowment for the Arts and The Ford Foundation. In 2004 his achievements were officially recognized on the floor of the Tennessee State Senate. The following year, the City of Chicago renamed North Cermak Road to "John Henry Way" in recognition of his long association with the city's cultural life. As he continues to push the aesthetic envelope, Henry's dynamic works invite visual pleasure and thematic contemplation. It is one of contemporary art's happy paradoxes that Henry's timeless works, so exacting in their geometric precision, evoke such freedom, exuberance, and panache.