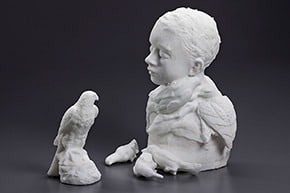 Press Release
April 3rd - May 31st, 2014
RECEPTION April 5th 6-9 PM
There is a hushed, hovering moment when winter snows begin to thaw and the promise of new life emerges. This is the feeling artist Sibylle Peretti captures in I Search in Snow, an extraordinary suite of glass sculptures and mixed media themed around the fragile purity of childhood and our relationship to the natural world. The children Peretti depicts are poised at the cusp of change, suspended at a magical halfway-point between vulnerability and strength. Her exhibition at Callan Contemporary includes figurative sculptures made of cast and kilnformed glass; collage on paper; and groupings of opaline "milk-glass" whose intricate silvering and relief evoke bubbles, dewdrops, or abstracted lines of communication. This immaculate, pristine quality is heightened by a predominantly white palette. "The white color of snow," Peretti notes, "creates a sense of peace, vulnerability, softness, and subtle depth." In some passages, white is offset by sumptuous magenta, evoking patches of berries sprouting through ice-covered earth.
Peretti grew up in Bavaria, Germany, in a family that was active in the region's glass-making community. After training as a glass designer at the State School for Glass-making in Zwiesel, she earned a masters-of-fine-art degree in painting and sculpture at the Academy of Fine Arts in Cologne. Her work is included in the permanent collections of the Corning Museum of Glass (Corning, NY), Carnegie Museum of Art (Pittsburgh, PA), Museum of American Glass (Milleville, NJ), Montreal Museum of Fine Arts (Canada), Museum für Kunsthandwerk (Frankfurt, Germany), Hunter Museum (Chattanooga TN), Speed Museum (Louisville,KY), and 21c Museum (Louisville, KY), as well as in important corporate and private collections around the world.
The time-intensive and painstakingly detailed pieces in I Search in Snow reveal traces of life and stillness, pulling the viewer beneath the superficial, allowing us to examine the truth and life that lies beneath the surface. In one sculpture, hawks—a recurring motif in this series—watch protectively over a sleeping girl. In another, a hawk gazes at its reflection in a silvered dome. Like the hawk peering into its reflected eyes, viewers may see parts of themselves in Peretti's enigmatic vignettes. In the faces of the children, we may see our dialogue with the grandeur and precariousness of nature; in the hawk, we may sense the presence of those who shield us from harm. With their exquisite technique and dream-like, visionary beauty, these works engage the imagination, transporting us to worlds that are both faraway and familiar.