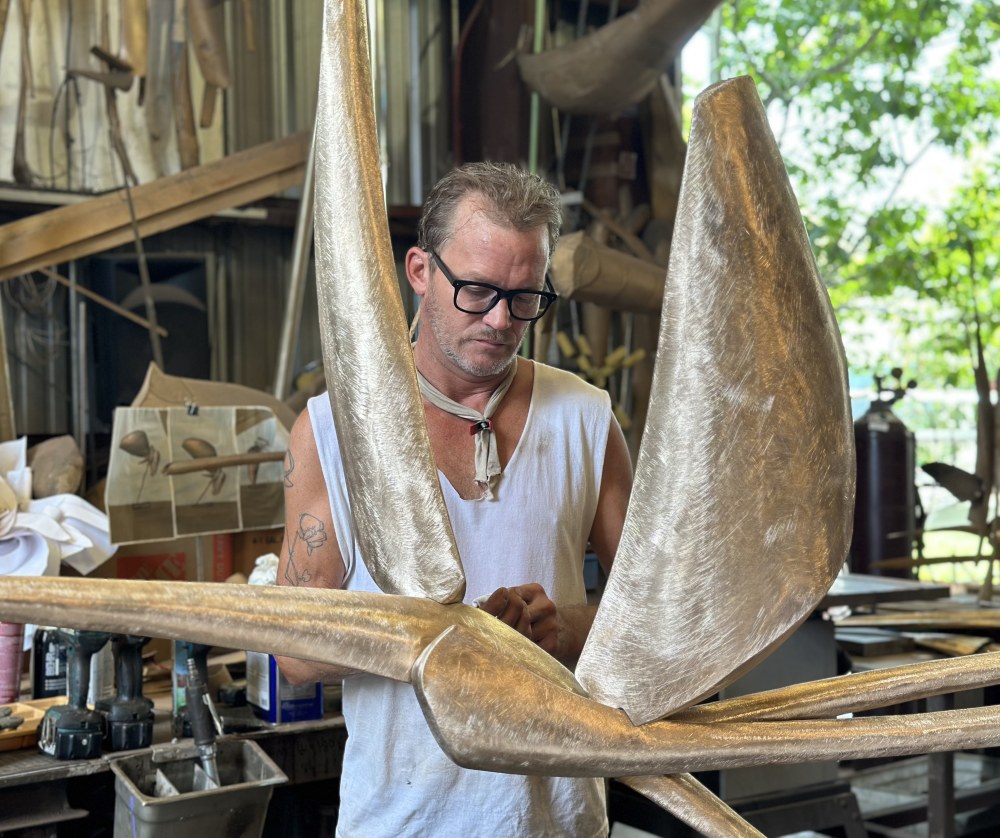 BIOGRAPHY
David Borgerding was born in Grand Rapids Michigan. Inheriting a passion for "making things" from his father and learning to weld at the age of 14 surely charted the course for Borgerding's future in the arts.

After receiving a BFA in sculpture from Kendall College of Art and Design, Borgerding continued his studies at the Savannah College of Art and Design. Upon completing his MFA at SCAD in 2000, he moved to New Orleans, and continued to study sculpture but began focusing on abstract, organic, and fabricated bronze pieces.
In 2008, he built his current metal studio, located in the Irish Channel neighborhood of New Orleans. Intensely active in the studio, David works on large, public and private commissions as well as smaller pedestal sized sculptures. He is the recipient of two grants from the Joan Mitchell Foundation and has exhibited nationally and internationally, appearing in noted private, corporate, and institutional collections.
EDUCATION
BFA Kendall College of Art and Design, Grand Rapids, MI
MFA Savannah College of Art and Design, Savannah, GA
SELECTED EXHIBITIONS
2023 Oct. - Recent Sculpture" solo exhibition, Callan Contemporary, New Orleans, LA
2022 January - February "Recent Sculpture" solo exhibition, Callan Cntemporary, New Orleans, LA
2019 Oct. - "Recent Sculpture" solo exhibition, Callan Contemporary, New Orleans, LA
2017 Nov. - "New Sculpture" solo exhibition, Callan Contemporary, New Orleans, LA
2015 Oct. - "Recent Sculpture" solo exhibition, Callan Contemporary, New Orleans, LA
2013 Oct - "New Sculpture" solo exhibition, Callan Contemporary, New Orleans, LA
2012 Oct-Dec - "Recent Sculpture" solo exhibition, Seraphin Gallery, Philadelphia, PA
2011 Feb - "Recent Sculpture" solo exhibition, Callan Contemporary (formerly Gallery Bienvenu), New Orleans, LA
2010 Sept-Nov - ArtPrize Exhibition, Grand Rapids, MI
2009 June - "Rehab" group exposition, Three Ring Circus Gallery, New Orleans, LA
2008 Nov - "New Work" group exhibition, Soren Christensen Gallery, New Orleans, LA
2008 Jan - Group Exhibition, Three Ring Circus Gallery, New Orleans, LA
2007/8 Nov-Jan - "Second Nature" group exhibition, Diboll Gallery Loyola University, New Orleans, LA
2006 Dec - "New Work" solo exhibition, Soren Christensen Gallery, New Orleans, LA2006 Feb - Palm Beach International Sculpture Biennale, Palm Beach, FL
2004 Mar - "New Work" solo exhibition, Karen Lynn Gallery, Boca Raton, FL
2002 Oct - "Form Reform" solo exhibition, Soren Christensen Gallery, New Orleans, LA
2002 May - " Pickery" Group Exhibition, New Orleans, LA
2001 Oct - "Monumental Works in Sculpture" solo exhibition, Gallery Avance, New Orleans, LA
2001 June - "New Work" solo exhibition, Gallery House, New Orleans, LA
HONORS
2008 Joan Mitchell Foundation - Career Opportunity Grant Recipient
2008 Joan Mitchell Foundation – Grant Recipient

COMMISSIONS
2013 "Ata", "Sabo" for Louise McNamee and Peter McHugh. New York, NY
2011 "Foml" for Doug and Maria Devos, Grand Rapids, MI
2011 "Pangatam" for International Matex Inc. - Thomas Coleman, St. Rose, LA
2010 "Waduwach" for The Jefferson Parish Public Library, Jefferson Parish, LA
2009 "Sculptural Benches", for Loyola University, New Orleans, LA
2009 "Katrina Commemorative Sculptural Bench" for Loyola University, class of 2009 New Orleans, LA
PERMANENT COLLECTIONS
City of New Orleans, "Sasookasoon", on Poydras Street, between St. Charles Ave. and Carondelet Street, downtown New Orleans. Sculpture is on loan, with assistance from sculptureforneworleans.org
International Matex Inc. - Thomas Coleman, St. Rose, LA
Jefferson Parish Public Library, Jefferson Parish, LA
Loyola University, New Orleans, LA
New Orleans Children's Museum, New Orleans, LA