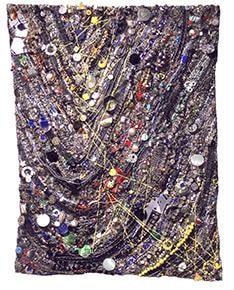 Press Release
"Collective Memory: Works by Shawne Major"
January 1st – January 31st, 2015
Artist's Reception: Saturday January 3rd, 6-9 PM
Equally conversant in the main traditions of assemblage art since early modernism and the folk art traditions of the American South, Shawne Major creates works that seem like magical spaces created from the artist's re-enchantment of objects and materials from disposable production. Unlike quilts and tapestries from either folk art or high craft traditions, her works are a remix tableaux with a three-dimensional materiality.
No surface, but a density of objects. Each work is a material record of the artist's process, revealing the sewn and stitched layers of its own making. The works are formed from objects sewn onto mesh and plastic netting; the resulting compositions are the artist's haul of disparate materials pulled into a self-revelatory pattern. Viewing her works from a distance, we might read a quilt, a tapestry, a votive weaving, or a collection of fetishes.

Moving closer we see an array of found objects with an abundance of cultural information, a pattern of sutured materials that defy quick categorization. Buttons, electrical wiring, wood and plastic toys, beads, plastic snakes and lizards, artificial fruit and imitation flowers, humorous kitschy surprises, multiple layers of found fabric and netting, ribbon, and appliqué — all combined in a striking and original variegated materiality. Each work is a scandalous carnival of visual and tactile pleasure.
Shawne Major, born in New Iberia, LA in 1968, resides in Opelousas, LA. She received her BFA from the University of Southwestern Louisiana in Lafayette and her MFA from Rutgers University, then lived in New York City in the '90s.

After returning to Louisiana, she was selected with 85 international artists to exhibit her tapestries in the Prospect 1 New Orleans Biennial in 2008. She has received grant awards from the Pollock-Krasner Foundation and the Joan Mitchell Foundation. Her work is in the collections of the Renwick Gallery of the Smithsonian Institute of American Art, the New Orleans Museum of Art, the Ogden Museum of Southern Art, the Hilliard Museum of Art, Lafayette, LA, and the Art in Embassies program, Brazzaville, Congo.

She is widely collected and part of many private collections including the Frederick Weisman, Los Angeles, and the Francis Greenburger, New York. Major has participated in artist residencies at the Skowhegan School of Painting and Sculpture, Yaddo and Art Omi and has recently been selected for an upcoming residency at the Robert Rauschenberg Foundation.