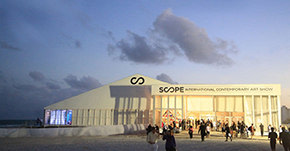 SCOPE ART SHOW CELEBRATES NEW LOCATION ON THE SANDS OF MIAMI BEACH
It is with tremendous enthusiasm that SCOPE announces its new location on the sands of Miami Beach. Situated on the most highly visible location in Miami, SCOPE Miami Beach's 70,000 sq. ft. pavilion will feature an outdoor beach lounge and stunning views of the ocean, nestled amongst the iconic architecture of Ocean Drive at 10th Street. Working closely with the City of Miami Beach, SCOPE will contribute the cultural landscape of this vibrant neighborhood with an extraordinary presentation of emerging contemporary art.
Welcoming 100 International Exhibitors and 15 Breeder Program galleries, SCOPE Miami Beach will also feature a wide range of curated projects, sponsor programs and Platinum VIP tours. With an emphasis on activating emerging galleries and artists, attendees to SCOPE are seasoned collectors, curators and tastemakers looking for new discovery. SCOPE Miami Beach opens on Tuesday, December 3, to welcome VIPs and Press at its First View benefit, and will run December 4 - 8, 2013.
For the second year in a row, SCOPE – the preeminent launching pad for emerging contemporary art – continues its collaboration with VH1, which through its own You Oughta Know initiative has helped launch some of music's hottest artists. This year, SCOPE and VH1 are teaming up to host ART + MUSIC + BEACH to celebrate the convergence of the music and art worlds in a series of curatorial on-air, online and on-site collaborations at SCOPE's new location in the heart of South Beach, Miami.
The VH1 Indoor Lounge within the SCOPE pavilion will expose SCOPE Miami attendees to a series of activations designed to celebrate the crossover between art and music, and will be open to all for the duration of the event – December 3-8, 2013. On Friday, December 6, VH1 will also host the Official VH1 + SCOPE Party, featuring a performance by one of today's hottest artists on the music scene.
With over 65 art fairs spanning more than a decade, SCOPE is the largest and most global art fair in the world, celebrated as the premier showcase for international emerging contemporary art and multi-disciplinary creative programming. Renowned for its uncanny ability to forecast new visual trends that are embraced globally, SCOPE Art Shows in Miami, Basel, New York, London and the Hamptons have garnered extensive critical acclaim, with sales of over $500 million and attendance of over 700,000 visitors.
SCOPE taps into the cultural psyche to present only the most pioneering work across multiple creative disciplines. With over a decade of critically acclaimed art fairs and non-profit initiatives that extend beyond the ordinary in contemporary art.