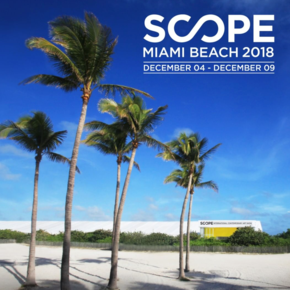 SCOPE MIAMI BEACH RETURNS TO OCEAN DRIVE FOR 18TH EDITION
The 18th edition of SCOPE Miami Beach returns to the sands of Ocean Drive and 8th Street. Featuring 140 International Exhibitors from 25 countries and 60 cities, SCOPE Miami Beach will welcome over 55,000 visitors over the course of 6 days.
Amidst an unprecedented outpouring of critical acclaim from press, curators and collectors, and a digital and social media outreach campaign garnering over 450 million impressions, SCOPE Miami Beach is once again poised to lead the charge for emerging contemporary art market.
SCOPE Miami Beach 2018 will open with the Platinum First View on Tuesday, December 4, 12pm-4pm; followed by with its VIP and Press Preview on Tuesday, December 4, 4pm-8pm. The fair will run through December 9th; 11am-8pm Wednesday-Sunday.
PLATINUM FIRST VIEW
Tuesday | December 4 | 12PM - 4PM
VIP | PRESS PREVIEW
Tuesday | December 4 | 4PM - 8PM
PUBLIC HOURS
Wednesday - Sunday | December 5 - 9 | 11AM - 8PM